We are a Western Colorado club whose mission is to promote knowledge, enjoyment, cultivation, and conservation of cacti and other succulent plants among its members and other individuals and organizations throughout West-Central Colorado. We created and maintain a beautiful cactus and succulent Demonstration Garden in Grand Junction: at the Colorado State University Extension office. This garden also presents xeric and native plants and showcases various garden design strategies that work in our challenging local climate.
May 28th Garden Party
Our demonstration garden is at peak bloom this month! Join us at the CSU Extension office on Saturday May 28th from 9:00 – 11:00 am for some light weeding and maintenance and to enjoy the flowers. 
Details and the entire 2022 gardening calendar can be downloaded here.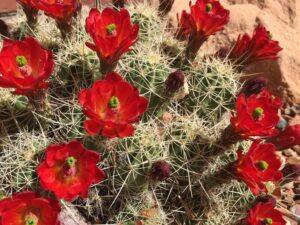 June Social
In lieu of a Regular Meeting the club is holding picnic social for members and their guests on Thursday, June 9th.
Registration information and other details can be found in the May and (upcoming) June newsletters.
2022 Photo Contest!
We have kicked off the photo contest for 2022! We have ten categories again this year … some favorite standbys and some interesting additions.
You can download the announcement flyer here. Copies will also be available at our monthly meetings. Have fun finding and taking photos!